Akal Takht honours Tohra posthumously
Varinder Walia
Tribune News Service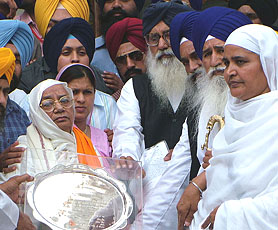 Bibi Joginder Kaur, widow of late Jathedar Gurcharan Singh Tohra, receives Panth Rattan award from the Jathedar, Akal Takht, Giani Joginder Singh Vedanti , the SAD President , Mr Parkash Singh Badal, and the SGPC chief, Bibi Jagir Kaur, awarded to the late leader posthumously on Sunday. — Tribune photo by Rajiv Sharma
Amritsar, March 27 2005

The hastily organised function to honour Gurcharan Singh Tohra, a former President of the SGPC with the Panth Rattan title posthumously at Akal Takht, today drew flak from his close confidants. Bibi Joginder Kaur, widow of Jathedar Tohra, received the title.
The late Jathedar Tohra becomes the first Sikh leader to receive the title of Panth Rattan posthumously. Though Master Tara Singh, a legendary Sikh leader was also honoured with the title, it was not presented from Akal Takht.
Giani Sant Singh Maskeen, a renowned 'katha vachak' of the Sikh Panth who died recently, was honoured with the title of Gurmat Vidya Martand. His widow, Bibi Sunder Kaur, received the title. Both titles were given by Giani Joginder Singh Vedanti, Jathedar, Akal Takht in presence of Mr Parkash Singh Badal, President Shiromani Akali Dal, and Bibi Jagir Kaur, and senior leaders.
Eyebrows were raised when Jathedar Tohra ,who was described as 'traitor of Sikh Panth' during his "war" with Mr Badal before the tercentenary celebrations of the Sikh Panth, was honoured with the title of Panth Rattan today after his death.
Similarly, Giani Maskeen, who was honoured with the award of Bhai Gurdas and title of Gurmat Vidya Martand posthumously was once denied to perform 'katha' at Manji Sahib (Golden Temple) by the then Manager, Darbar Sahib.
Mr Manjit Singh Calcutta, an SGPC member who remained a close confidant of Jathedar Tohra till his death, said the function was not properly organised. He said if the Jathedar of Akal Takht or others were short of time, the function should have been postponed.
The titles given to the widows of Jathedar Tohra and Maskeen carried citations, plaque and 'Sri Sahib' (kirpan). The Bhai Gurdas Award also carried a cash of Rs 1.25 lakh. Bibi Jagir Kaur said the Bhai Gurdas Award was approved by the SGPC recently and Giani Maskeen was the first to get it.
The titles were bestowed on the basis of their contribution to the Sikh Panth. Giani Balwant Singh Nandgarh and Giani Tarlochan Singh, Jathedars of Takht Damdama Sahib and Kesgarh Sahib were also present on the occasion.